KBS-APB1-QC

SKU:
35-159mm Big Shot QC Arbor with Pilot Bit
The Kango Big Shot Arbor Above 32mm with Pilot Bit has a quick-change feature, allowing you to effortlessly switch between Holesaw sizes. The 7/16" (9.5mm) hex shank provides an increased chuck grip and can fit into any chuck larger than 7/16". The drive plate has a tightening nut...
Read More
WHERE TO BUY
This page is for product information only and item/s may be unavailable for purchase, contact your local Bunnings store for availability/price.
35-159mm Big Shot QC Arbor with Pilot Bit expand_more
Quick Change Arbor
Switch holesaws easily
SPECIFICATIONS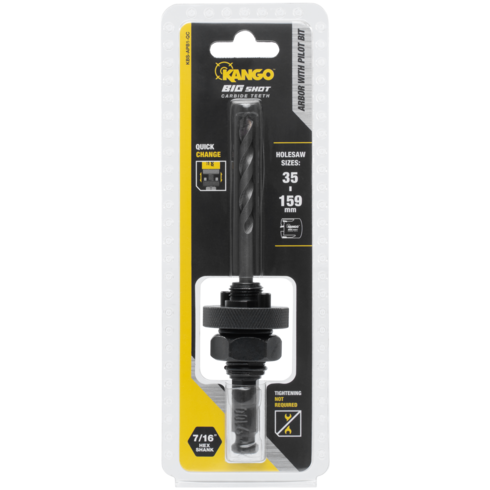 Size Range

35-159mm

Shank

7/16"

Bit Diameter

7.9mm

Bit Length

117mm
What's Included
Kango 35mm Big Shot QC Arbor with Pilot Bit
Multi-Material Pilot bit